John Waugh, Photographic Images
...is based in Boulder, CO and provides full service photographic imaging for the action, sports, motorsports, commercial, architectural, special events and editorial client.
John Waugh is no stranger to the back of a camera. He built his first darkroom some 40 years ago, and has been capturing images on location or in the studio to meet your photographic requirements ever since.
Working in the motorsports and outdoor lifestyle industry for years, John has honed his compositional eye to present rich, crisp, concise images that enthusiastically portray the subject and the situation.
His work is published in numerous magazines, commercial sites, corporate exhibits and private collections through out the United States and Europe.
John has recently completed and published "in Your Grill... a full frontal look at fascinating motoring cars" in hardback. This book is a portrait collection of fabulous automobiles John has encountered during his travels in motorsports. 50 vintage vehicles from the 1930's to present are depicted in black background isolation to highlight the ingenious designs used throughout the evolution of these fine automobiles.
E-Mail john @johnwaugh.com


Colorado Grand 2012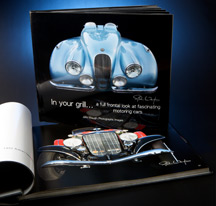 "In Your Grill..." a new book by John Waugh